Cross Country Championships: 'This is proper running' (04/03/2017)
Details

Published: 4 Mar 2017
In today's Guardian Newspaper writer Oliver Astley gives his view on last weekend's Naitonal Cross Country Championships. Tipton's Carl Gayle and Paul Walker feature in the accompanying photos.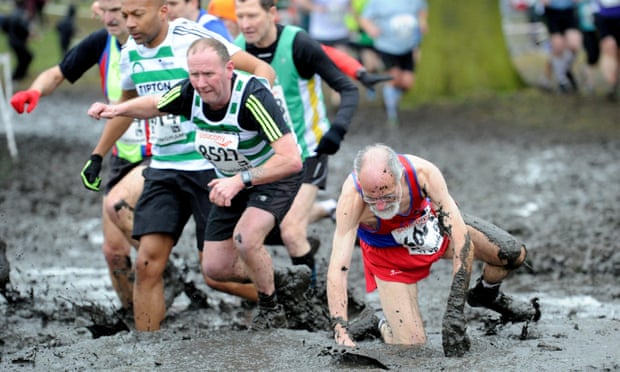 You can read the article HERE
Club Development Officer Dave Payne - runner up in the 1993 championships had this to say,
"It is with such great pride that I share this picture....several years ago the morale was so low within in my beloved Harriers I vowed I would do all I can to help rebuild, along with several other committed members, committee and coaches the pride is returning within the club.
The picture below epitomises the spirit within the club, these are dads of younger Harriers, who dared to wear the 'green and white'.......they are giving it there all, eager for success at their level and truly competitive as friends and team mates!
As part of one of my continued comments is "cheer the green and white, at the front and back of fields", these two guys were in the 1700's.....it makes me just as proud as it for those at the front of the field!
I can't believe the strides that we have made over the last few years and believe it's only going to get better, the support of everyone has been immense.
We have introduced open graded meets back to the club, Our annual 5 mile race, our own club beer mile, and look to introduce more in the coming months....it's awesome!!
Club athletics is returning to the Harriers at all levels, ages and abilities and we are a happy family again with pride in the green and white...there are so many to thank for their help so this is a thank you to you all!!
Don't miss out anyone, come along, give us a try, bring the family....we are Tipton, Tipton Harriers...#swiftandeager"